The Matchless Albert K. Murray

Was he America's foremost portrait painter—after Sargent?

here are those who believe that the greatest of all American portrait painters—after John Singer Sargent—was Albert Murray, the legendary New York artist (1906-1992) who created some of the most memorable and effective portraits ever painted in this country. An Albert Murray portrait was characterized by consummate draftsmanship, exquisite color, flawless craftsmanship—resulting in a truly penetrating rendition of the personality of the subject. Here are four outstanding examples of Al Murray's magnificent art: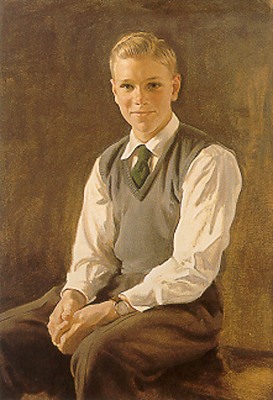 3. Billy Wingate

Every artist who paints portraits of children and young people should keep a reproduction of this painting in their paintboxes! There are some powerful lessons to be learned here. The young subject sits in a simple, unaffected pose with a single strong light coming in from the left. The background is uncomplicated—nothing more than a wash of neutral color that provides a perfect foil for the clearly rendered figure. The shadow side of the head is bathed in a delicious reflected light. Both the light and the dark side of the head are lighter than the background. The lad's hair is neatly combed, but his collar is unruly—a perfect touch of convincing realism. The execution is straightforward and direct—not overworked. The work of a genius!
Oil on canvas, 1957
36 x 25 inches
Private collection