The Matchless Albert K. Murray
Was he America's foremost portrait painter—after Sargent?

here are those who believe that the greatest of all American portrait painters—after John Singer Sargent—was Albert Murray, the legendary New York artist (1906-1992) who created some of the most memorable and effective portraits ever painted in this country. An Albert Murray portrait was characterized by consummate draftsmanship, exquisite color, flawless craftsmanship—resulting in a truly penetrating rendition of the personality of the subject. Here are four outstanding examples of Al Murray's magnificent art: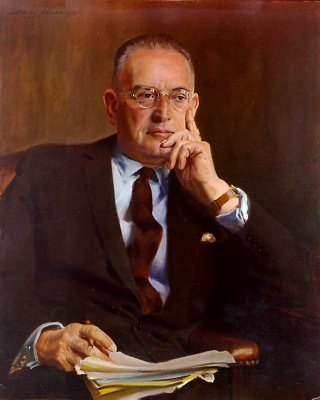 1. A Business Executive

This portrait of a contemplative man (his identity is unknown) demonstrates Albert Murray's skill at its utmost and best. The pose is natural and yet unconventional. The meditative pose sets the painting apart from the ordinary "corporate" portrait. The light falls from a single source to our right. The subject's very natural pose creates a rumpled shirt and necktie—very different from the usual crisp "executive" look. The draftsmanship of the hands is breathtaking. Even the reflections on the lenses of the eyeglasses breaks a conventional portraitists' taboo. The result is a human portrayal that is gripping in its realism, and makes the usual "executive portrait" seem very ordinary indeed.
Oil on canvas
38 x 30 inches
Private collection (unknown)

"His genius, I believe, was in seeing the creative character in the people he painted and that was the spirit that showed through in his art. That is a rare and beautiful, wonderful aptitude.
"His art must be viewed as an amazing spiritual force. He was very selfless, always seeking out the other person rather than himself and to him everything else was subordinate. When you are dealing with the spirit, the mind and body become one so all the worldly aspects seem to disappear and only the spirit seems to remain, so that one is hardly aware of details.
"Al was looking in depth for soul. It would emerge and grow on the canvasses. Painting portraits, especially for Al, could take a long time. He was a good story teller, and he had human interests to share. That's how he enlivened the long sessions.
"Combat art forced him into another style. He was good in that too. He loved the Navy and made a whole new realm of friends in shared admiration for it.
"Al's loyalty to friends engendered strong loyalties in return. The goodness and creativity that Al saw in others are sketched in his work."
Today, only a dozen years after his death, Albert Murray's name is rarely mentioned. But his masterful portraits hanging in institutions and collections all across the country are an enduring legacy. The extraordinary standard which he set may never be surpassed.
Biography by Marion S. Gilliland, from the catalog of the retrospective exhibition of Albert Murray's work at Christie's New York, December 19 - 21, 1995.