The Art of Sir William Orpen
The dazzling Irish painter created portraits with an amazing force of precision.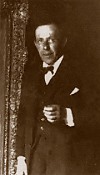 ne of my favorite artists has always been the great Irish painter Sir William Orpen (1878 - 1931). His masterful portraits are extraordinarily vivid, the combined product of superb draftsmanship, rich color, and an unerring control of tonal values. He was first and foremost a painter—the strong, decisive brushstrokes are placed with athletic vigor and uncanny accuracy. There never seems to be an ounce of hesitancy or indecision—every stroke registers like a clear, precise note of music. I offer four examples for you to study: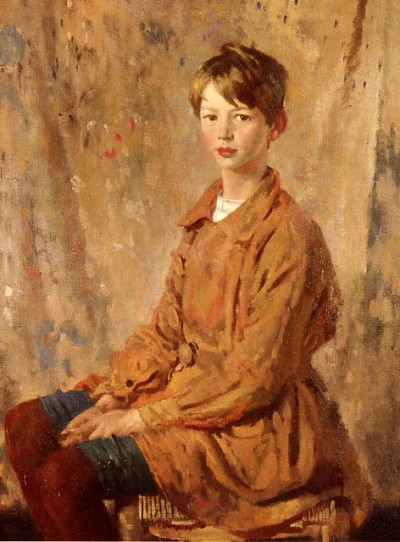 1. Portrait of Master Spottiswoode

This very appealing portrait of a young boy is based on a conventional "artist's studio pose"—the lad takes his position before a standard neutral studio drape, looks "three-quarter left," and maintains an erect pose. But there is nothing conventional or ordinary in the execution. The background sparkles with rich, variegated color. The four pieces of the boy's costume register individual color notes that resound like major chords: the ochre smock has lush passages of orange and yellow, the blue leggings and the maroon stockings each strike a musical note, and the white at the boy's throat draws the eye upward. Don't fail to notice Orpen's masterful use of reflected light—it shimmers in the shadows side of the face and glows in the shadows of the smock.

Click portrait to enlarge.

It is a rare treat to see an Orpen original. Very few are exhibited in American museums. The National Portrait Gallery in Washington, DC, features several. In his 1935(?) book The Technique of Portrait Painting (Philadelphia, J.B. Lippincott Company, publishers) artist and author Harrington Mann pays tribute to Orpen:

"The untimely death of Sir William Orpen has been a blow to modern British art. We have lost a painter who, while he had already achieved fame, would have carried the laurels of the British school of to-day to a still higher level had he lived. His work shows an amazing force of precision in the realization of individual character. He never failed to tell you all about his sitter—all that could be told in paint by the cleverest hand and the keenest eye. The face of the man before him was like the page of an open book which he read with astonishing insight He made a literal transcript which he handed on to anyone who cared to know.
"It is the physical character which is of interest to the painter, but he knows that if he can but get this skin-deep truth he has got everything Technically Orpen was splendidly equipped There was no slashing sleight-of-hand like Boldini There was neither the carefree dexterity of Hals, nor the facile skill of Sargent, but he had his own unerring precision of touch which gave him the proficiency necessary to produce his masterpieces
"Even with his Irish sense of humour Orpen always told the truth. This is real portraiture."
After the war Orpen returned to portrait painting, including one of Prime Minister David Lloyd George (1926). Sir William Orpen died in 1931.