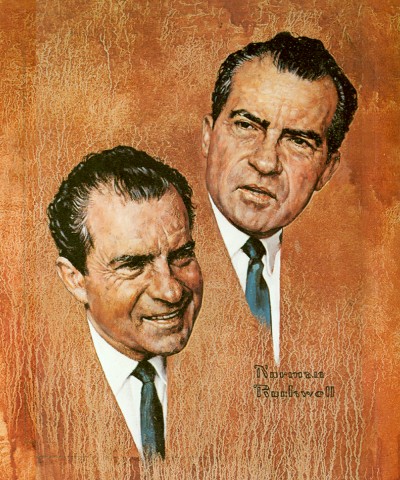 Richard M. Nixon, 1968.



Norman Rockwell may be the most underrated artist in American history. Widely recognized as the most popular painter in our national history, his work as a portraitist has not been taken seriously. Yet he has produced some extraordinarily trenchant and revealing portrait work. This 1968 example, of President Richard M. Nixon, employs the illustrator's device of multiple images on a single canvas. The result allows the artist to give us both smiling and serious versions of his subject. Rockwell's well-known love of detail is used here to good advantage. These two heads are as convincingly modeled as any of our "museum" or "fine art" examples. The background of bright color textured by streak-creating solvents, is surprising but effective.

Click portrait to enlarge.