More On Presidential Portraiture —
Nine Great Twentieth Century Examples
A Second Follow-Up To The Wall Street Journal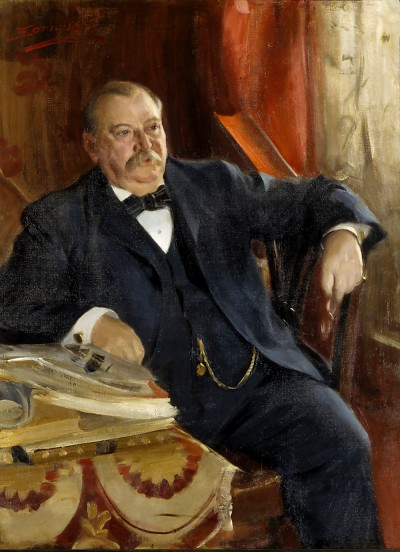 Grover Cleveland, 1899


However, Sargent had at least one superb example of twentieth-century Presidential Impressionism before him when he arrived in 1903 for the Roosevelt assignment. The great Swedish master Anders Zorn (1860-1920) had been there before him, painting Grover Cleveland in 1899 (Zorn returned to the White House in 1912 to paint William Howard Taft). Far from choosing a classical or "power" pose, Zorn shows the portly Cleveland seated by a window, pausing in his perusal of some picture books that lie open before him on a table, obviously in the residential part of the White House. The painting is executed with Zorn's well-known dash and vigor, with an amazingly bright and vivid palette. If anything, we are given Cleveland the sensualist and lover of fine things. No Roman power here.

Click portrait to enlarge.