The Question of the Smile
Why is it that a broad smile is almost always wrong in a portrait?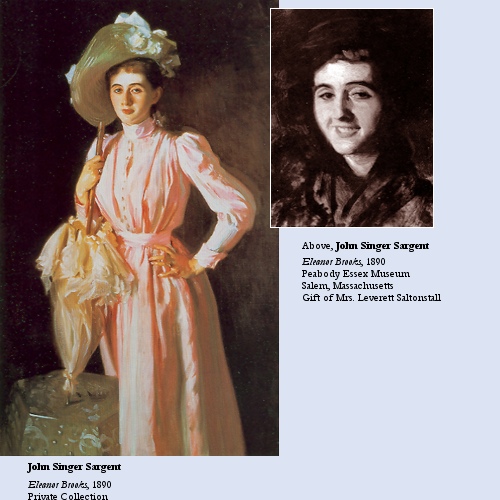 n the right above is a sketch by Sargent of Eleanor Brooks, painted near Boston in 1890, in preparation for the three-quarter-length portrait shown here. Obviously, between the sketch and the final portrait, the artist decided to eliminate the broad smile. The lady still has a pleasant expression on her face, but the smile—with teeth showing—has been replaced with an attractive, composed expression. Below are details from twelve other Sargent portraits of women. Not one is smiling. In fact, a concerted and deliberate search through Sargent's oeuvre yields only a handful of portraits in which the subject has a definite smile on his or her face. The same is true of traditional, historic portraiture in general. Why is this? Why does the working portrait artist consciously feel his hand and heart restrained when the client requests a smiling portrait? I think there are four reasons, all of them potent.


If the artist should find himself caught between the explicit desire of his client for a smiling portrait and his personal awareness of the wrongness of this course, one possible denouement would be to recommend that the oil portrait be displayed along with framed (and smiling) photos of the subject (the portrait on the wall, the photos on the table below). Thus the painted portrait, with its classical, composed facial expression, provides a counterpoint image to the candid photographic smile. The disparate images reveal different sides of the subject's personality—in the case of a beautiful woman, different aspects of her beauty.