Billy Graham has appeared 55 times in the Gallup Poll's annual survey of The Most Admired Men in the World. Gallup reports: "The Reverend Billy Graham has been in the top ten more than any other man—55 times since 1955. He has finished as high as second place, which he has done on eight occasions. After Graham, Ronald Reagan is next with 31 top ten finishes, while Pope John Paul II, Jimmy Carter, Eisenhower, Richard Nixon, Harry Truman, and Bill Clinton have had twenty or more. The most recent poll (2011) has Billy Graham in fourth place among the World's Most Admired Men.

ugust 29, 2012, was a gloriously beautiful day in the Blue Ridge Mountains of western North Carolina. I had given a lecture the evening before in Linville, a beautiful and popular resort town. It was high noon, and Elizabeth and I were now driving on the Blue Ridge Parkway southwest to Black Mountain. Just north of Black Mountain is the miniscule village of Montreat—long a popular Presbyterian summer conference center. After meeting our host, the Reverend David Bruce, who serves as executive assistant to Billy Graham, we entered through an extraordinary series of security gates and made the long winding drive to the top of the mountain. There we parked the car before the low, rambling, modest log cabin that has been where Billy Graham lived for all of the 64 years of his marriage to Ruth Bell Graham, and where he now lives without her, surrounded by an alert, helpful and loving staff.
In 2004, Billy's son Franklin—also a famed evangelist with a worldwide ministry—invited me to create a double portrait of him and his father together to hang in their new world headquarters in Charlotte, North Carolina. Franklin sat for me in his office in Boone, North Carolina, and for the figure of the senior Dr. Graham. It was decided that I should use the extra reference material from the 1993 sittings in New York to create the likeness of Billy Graham.



Billy Graham
Oil on canvas, 50 x 42 inches.
The Billy Graham Training Center
Asheville, North Carolina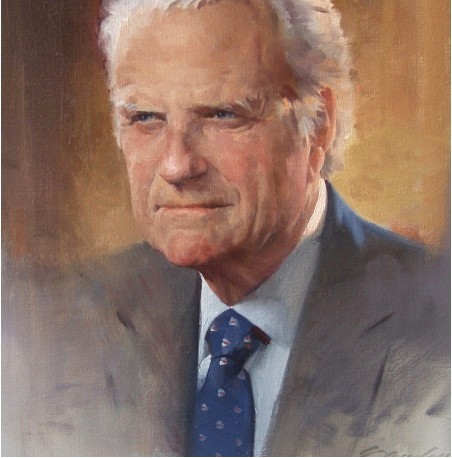 1949: Dr. O.E.
Sanden with Billy
Graham, Minneapo-
lis, Minnesota.